Ahsan Manzil: One of the Most Popular Tourist Attraction in Dhaka City.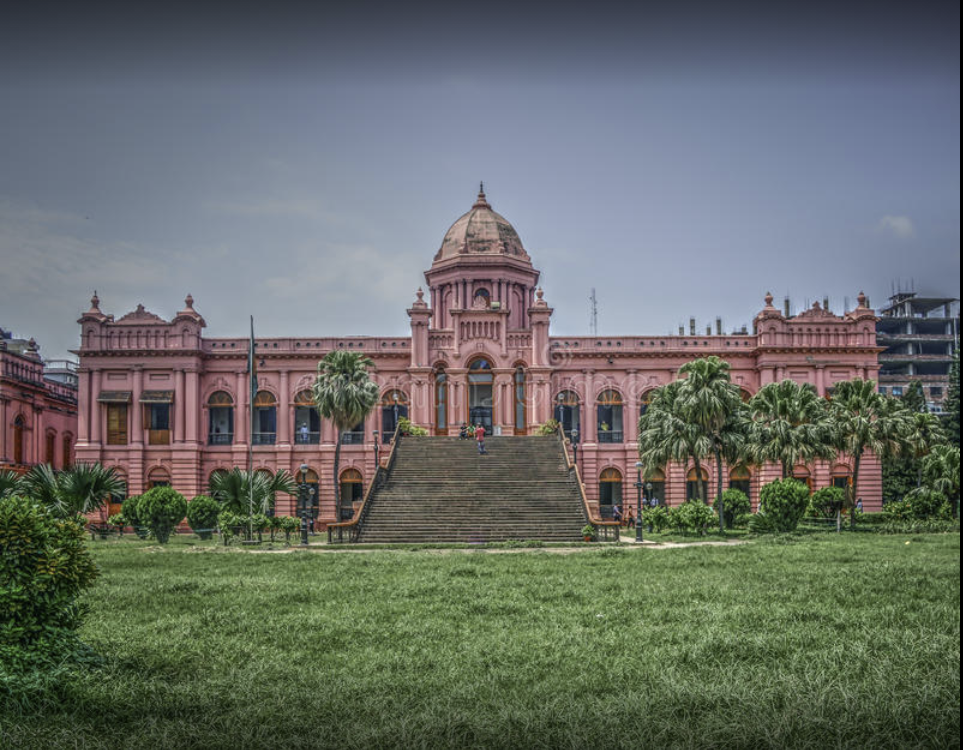 Ahsan Manzil, also known as the Pink Palace is one of Dhaka city's most popular tourist attractions. Located in Old Dhaka on the bank of River Buriganga this was once residence for feudal landlords during British rule in Indian Sub-Continent and now Govt. Of Bangladesh acquired property to open it as a museum
The palace became famous when the Nawab family leased out their small plot of land where they built Ahsan Manzil that turned into an opulent structure over time with increased income from various sources including trade and agriculture . The decline happened after Britain had left India which led to decreased revenue for them but still continued till today without any major changes except becoming a government owned site instead
The Early Stage of the Property
In the Mughal period, there was a summer house of Sheikh Enayet Ullah, the landlord of Jamalpur Porgona (district), in this place. Sheikh Enayet Ullah was a very charming person. He acquired a massive area in Kumartuli and included it as part of his summer house: here he built himself beautiful palace with an ornate name – Rong Mahal – literally translated to 'Palace-of-Colourful'.
He entertained her keeping other girls collected from home and abroad for company; dressing them up gorgeously adorned with expensive ornaments including crowns set with jewels like diamonds… The Faujdar who happened to be passing by one day had been attracted enough
Acquiring the Property by the Nawab Family
In Nawab Alibardi Khan's period around 1740 A.D., the French traders were able to do business here without paying any taxes by a decree from Emperor Awrangajeb, and they made themselves wealthy in competition with their English counterparts who had already established trading houses near this property when Sheikh Moti Ullah sold it off to them for just 1000 rupees.
The pond that was dug on newly purchased land still exists today, but now provides sweet water not only as an oasis for thirsty travelers passing through town looking to buy various spices or silks directly from local suppliers; nowadays locals come there too at night after work because of its cool atmosphere!
The Founding of Ahsan Manzil
Ahsan Manzil, the French Trading house in Dhaka that was renovated by Khwaja Alimullah and his son Abdul Gani before being renamed Ahsan Ullah (the place of peace), is a site to behold. From its elegant facade with an ornate design on every column, you can see why it became popular as "Ondor Mahal" or "The Residential House" within only three years after construction began! It has been said that this building served many purposes: living quarters for troops guarding against British attacks during 1857-8; barracks for military officers stationed there from time to time since then; family mosque where congregations were held every Friday morning between 9am and 10 am when all members
The Reconstruction of Ahsan Manzil
One of the most notable buildings in Dhaka is Ahsan Manzil, a palace that was hit by a tornado and then abandoned. The British sent one of their own to examine what could be done with it, but because so much damage had been caused they only gave an opinion on how well just one room survived without any reconstruction needed. Despite this sentiment from Britain's citizens there are two men who saw potential for greatness within its walls: Khwaja Abdul Gani and his son Ahsanullah! They made sure not to waste all these resources by reconstructing both structures completely anew under local engineer Gobinda Chandra Roy's supervision.
The Decline of Ahsan Manzil
After the death of Khwaja Ahsanullah in 1901, the glory and beauty of his palace quickly faded. His successors couldn't manage to keep up with rent payments or take care for this grand place like he did so it became a slum full of trash. In 1952, when Bangladesh attained its independence from British rule they took over control but left much responsibility under Dhaka Nawab court that supervised things until 1985 when UNESCO came through and made it their world heritage site…
After waiting decades after being built by wealthy businessman Hasan Ali Khan's son-in law Mirza Gholam Shah Kalimah who was also Prime Minister during Emperor Akbar II's reign; The Palace finally opened as an art museum on October 15.
Ahsan Manzil Museum
Ahsan Manzil Museum is the official residence of the Nawabs of Dhaka. It was built in 1872 and has been declared as a protected monument by the Bangladesh Government. The museum houses an art gallery, which displays European paintings from the 17th to 19th century, sculptures, porcelain crockery and other artifacts collected during the time of Nawab Khwaja Ahsanullah. It also has a library with rare manuscripts on Islamic law and history as well as some books printed in Arabic script dating back to 1610 AD.
You can learn about Dhaka's rich cultural heritage by visiting this place. Thousands visit it every year for its historical importance and architecture that reflects various styles like Gothic Revivalism, Neoclass
Ahsan Manzil off Day
Govt. Holidays
Ahsan Manzil will remain closed during any govt. holiday.
Eid Holidays
Ahsan Manzil will remain closed for visitors during the Eid day and the previous day of the Eid. It will remain open as usual from the next day of the Eid day.
Ahsan Manzil Opening Time
Summer Schedule (April – September)
Saturday – Wednesday: 10.30 AM – 05.30 PM
Friday: 03.00 PM – 07.30 PM
Thursday: Closed
Winter Schedule (October – March)
Saturday – Wednesday: 09.30 AM – 04.30 PM
Friday: 02.30 PM – 07.30 PM
Thursday: Closed
Ahsan Manzil Ticket Price
Local Visitors: 20 BDT
SAARC Country Visitors: 300 BDT
Other Foreigners: 500 BDT
Why Ahsan Manzil is famous?
Answer: The historical and architectural significance of Ahsan Manzil is primarily due to the interior design and appearance.
This one-story, octagonal building with yellow exterior was brought from France in 1930s as a wedding gift for Nawab Abdul Latif Khan by his maternal uncle Nawab Muhammad Khedive Ismail Shah, ruler of Egypt and Sudan. Generally it shows serious Muslim influence incorporating ornamental geometrical patterning such as circles, squares and octagons on different surfaces including ceilings, walls and pillars.
Nawab Abdul Latif Khan used this Mansion as an official State Guest House till 1972 when Pakistan Air Force established their sector headquarters at Karachi Airport & seized the property for military use. Thus this Mansion is relatively in excellent condition
Is Ahsan Manzil open in Corona?
Ahsan Manzil is temporarily closed since Covid
Conclusion :
Ahsan Manzil, also known as the Pink Palace, is one of Dhaka city's most popular tourist attractions. Located in Old Dhaka on the bank of the river Buriganga, this was the residence of the most influential family in Dhaka during British rule in India Sub-Continent. The Nawab family acquired a small property here and built their massive palace over time with their increasing wealth from land ownership and other sources. This was where they hosted dignitaries and held lavish parties attended by members from all social classes. It eventually declined after Independence when it became government property but has now been renovated to host many international visitors every year who come for its beauty as well as history significance. If you are interested