Bandarban Tourist Spot is the most attractive tourist spot of Bangladesh surrounded by three large hill districts including Chittagong Hill Tracts, Rangamati District and Khagrachhari District are full of beautiful tourist spots. Bandarban is the headquarter city which is about 4,479 sq km with the least population. This city is also called The Dam of Monkeys because you can monkeys everywhere in the district. There is a lot of tourist spots which are the main attraction of foreign and native people and every year thousands of people go there for observing their vacation between the sea of green land and high hill tracks. In this article, we will know about the Bandarban Tourist spot, Bandarban Tourist spot List, Bandarban Tourist Place & Bandarban Tourist Spot Map in detail.
Bandarban Tourist Spot List:
In Bandarban, there are various mesmerizing tourist spots that will change your mood and you
can feel relief by visiting those spot. The list of tourist spot of Bandarban is given below-
● Golden Temple
● Meghla Parjatan
● Nigiri
● Should Propat
● Rijuk Waterfall
● Keukradong
● Tajindong Hill
● Chimbuk
● Boga Lake
● Meraindong Hill
● Rajbari
● Prantik Lake
● Upaban Tourist Center
● Naikhyongchari Lake
● Moudaktang Hill
● Pat and Jhiri Waterfall
Bandarban Tourist Place: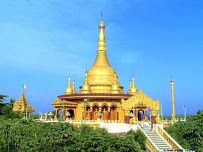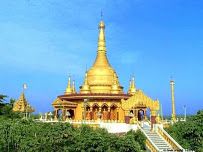 Bandarban is the queen of a tourist spot and all over the place, you will find a healing green
landscape everywhere that will make your day amazing. The description of some tourist spot of
Bandarban is giving here-
● Boga Lake: Boga Lake is also known as Baga Lake or Bagakain Lake which is the most
attractive lake and situated on a bot 15 acres of land. You can find large size rocks here
and there lying all around the lake and it is about 3000 feet above from sea level.
● Chimbuk Hill: Chimbuk hill is one of the most attractive tourist spots for the visitors which
is the third highest mountain in Bangladesh. The hill is about 2500 feet above from sea
level and you will feel walking in the cloud after climbing on the Chimbuk Hill.
● Keokradong: The name of the second-highest hill of Bangladesh is Keokradong which is
4,035 feet above from the sea level and it has an enormous beauty of the hill. It is
situated between Bangladesh & Myanmar and full of deep forests with lots of animals &
birds.
● Mirinja Parjatan: Mirinja Parjatan is a beautiful land of the green place which is about
1500 feet high from the sea level and about 16 kilometers away from the Bandarban
district. It's an amazing place from where you can see the Bay of Bengal and
Matamuhuri river easily.
● Nilgiri: Nilgiri is one of the most fabulous which is 3500 feet above from the sea level
which is the tallest peaks of Bangladesh. You can feel the real charm of the spot in the
rainy season for having an amazing view.
Bandarban Tourist Spot Map:
Forgoing every spot of Bandarban you can take help from the google map where you can find
the detailed direction clearly for arriving at your desired destination.
I hope that you have got a clear idea about the tourist spot of Bandarban and wish you will enjoy
the place with your near & dear ones.